The 6 Benefits of Using Hydrogel Facial Sheet Masks
Views: 69 Author: Private Label Skin Care Manufacturer In China Publish Time: 2021-07-06 Origin: https://www.gzolehana.com/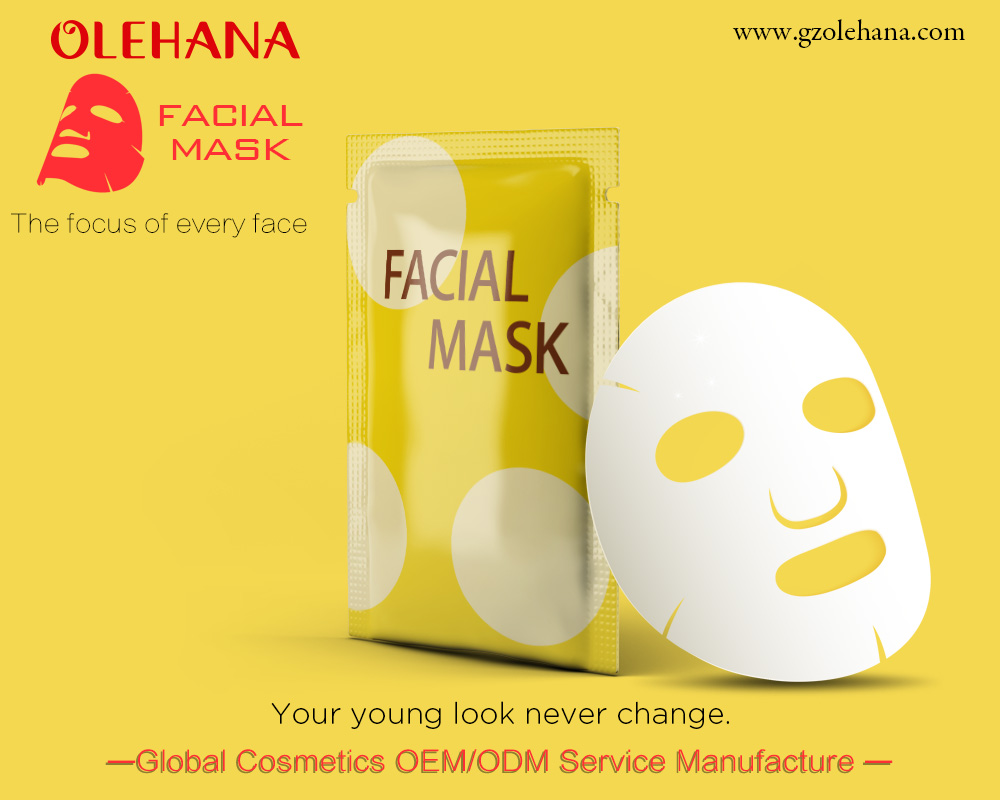 The 6 Benefits of Using Hydrogel Facial Sheet Masks
If you have a social event to attend, but no time to hit the salon for a quick refreshing facial, don't fret. Sheet masks are your saviour. In less than 30 minutes, you can get picture-perfect, party-ready skin at a fraction of the cost.

Yes! You heard us right. We're talking hydrogel sheet masks. It is the latest trend in skincare. And if you haven't yet heard of it, here's a list of the benefits.
Better absorption of active ingredients
We've all used pasty face masks pumped out of a tube as part of our skincare. A hydrogel sheet mask is different as it can be left on the skin for longer. To add, the anti-slip texture of the mask ensures it sticks to your skin allowing it to absorb every drop of hydration.

The active ingredients present in the hydrogel mask penetrate deep into the skin. The deeper they go, the better the results. Some natural sheet mask manufacturers also include a roller in the package. The roller can be used to gently massage the mask after it is applied to the skin for even deeper penetration.
Deep hydration
Facial sheet masks are made of varied materials - paper, cotton fiber and hydrogel. Composed of biocellulose, a hydrogel facial sheet mask has a velvety, gel-like texture which feels great on the skin.
These facial sheet masks are known for their high water-holding capacity which in turn transfers a good dose of hydration to your skin. Besides, many include the deeply hydrating hyaluronic acid.
High-Quality Ingredients
With a hydrogel facial sheet mask, the mask is made up entirely of the ingredients. It is not just a topical layer. To add, there is no filler material used. Most of the ingredients are natural substances such as essential oils, extracts and antioxidants. This potent combination delivers to your skin just what it needs leaving it brighter and softer.
Cooling and refreshing
Have too much heat in your body? A hydrogel facial sheet mask is just what you need. Its cooling effect can help you beat the warm weather and the hot flushes. A better way to use a hydrogel mask is to refrigerate it for a few minutes before applying it to your face. They soothe dry and parched skin.
Ease of use
Private label facial sheet mask manufacturers make sheet masks in different shapes and cutouts. They are designed to fit the contours of your face. Thus, they are very simple to use as you just have to peel off the mask and apply it to the desired area of your face.
They are safe
When experimenting with a new line of skin care products, our first major concern is safety - would it cause skin irritations and breakouts?
So far, hydrogel facial sheet masks are safe. As they help repair skin damage, they have been widely used in the medical industry in the treatment of wounds.
Nevertheless, you should always do your bit of research on the active ingredients or the processes of manufacturing. You could be allergic to any given ingredient or it might not suit your skin type.
For more about hydrogel facial sheet masks,you can pay a visit to Olehana at https://www.gzolehana.com for more info.